Galvanized Steel Welded Pipe
| | |
| --- | --- |
| Packaging: | Standard marine packaging or according to customer requirements |
| Productivity: | 10000 tons per month |
| Brand: | H-TONG |
| Transportation: | Ocean,Land,Air,Express |
| Place of Origin: | China |
| Supply Ability: | 10000 tons per month |
| Certificate: | CE |
| HS Code: | 7306309000 |
| Port: | Tianjin Port,Shanghai Port,Qingdao Port |
Basic Info
Model No.: Galvanized Steel Pipe
Product Description
Galvanized Steel Pipe
Galvanized steel pipe is a kind of carbon steel pipe, mostly welded pipe,Galvanized steel pipes are divided into cold galvanized steel pipes (electro galvanized steel pipes) and hot-dip galvanized steel pipes. At present, hot-dip galvanized steel pipes are mainly used in fire protection, electric power and highways.
Galvanizing can increase the corrosion resistance of steel pipes and prolong their service life. Galvanized pipes are widely used. In addition to being used as pipeline pipes for water transmission, gas, oil and other general low-pressure fluids, they are also used as oil well pipes and oil transmission pipes in the petroleum industry, especially in offshore oil fields, as well as pipes for oil heaters, condensing coolers, coal distillation oil washing exchangers of chemical coking equipment, as well as trestle pipe piles, support frames of mine tunnels, etc.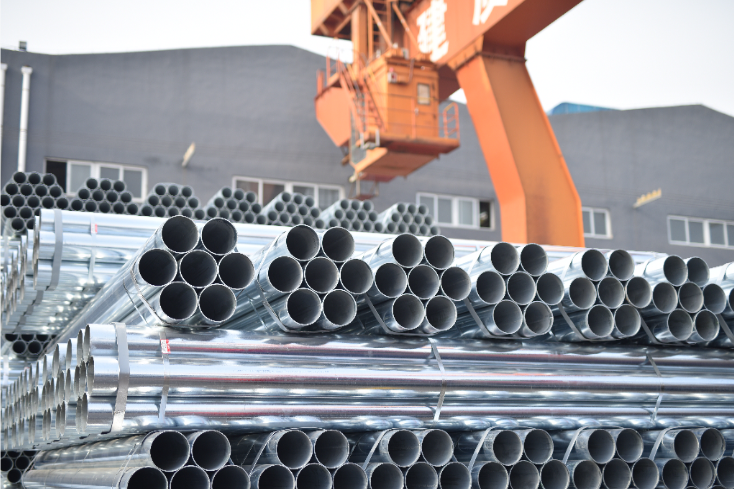 Hot-dip galvanizing (HDG), as referenced is the process of dipping fabricated steel into a kettle or vat of molten zinc.
Hot-dip galvanizing (HDG) is the process of coating iron, steel or ferrous materials with a layer of zinc. This done by passing the metal through molten zinc at a temperature of 860°F (460°C) to form zinc carbonate (ZNC03). Zinc carbonate is a strong material that protects steel and can prevent corrosion in many circumstances. Hot-dip galvanizing can be carried out cheaply and in large batches.
Benefits of galvanized pipe
Because the pipes are galvanized, it is protected from rust and corrosion. Steel rusts after interacting with water or moisture in the air over time. By adding a coating of zinc to the tubing, galvanized steel round tubing corrodes much slower, extending the life of your tubing.
In addition to this, galvanized pipe also provides:
Lower cost than Stainless Steel
Lowest long-term cost
Reliable performance
Excellent resistance to mechanical damage
Hot-dip galvanizing involves three main steps:
Preparation: The galvanizing reaction will only occur on a chemically clean surface, so the first step of the process involves removing contamination. First, the metal is degreased using a caustic solution and then dipped in hydrochloric acid to remove rust, mill scale, welding slag, paint and grease. This followed by a rinse and a dip in a flux solution, which is usually about 30 percent zinc ammonium chloride.
Galvanizing: When the clean iron or steel component is dipped into the molten zinc (at 842°F (450°C)), zinc-iron alloy layers form as a result of a metallurgical reaction between the iron and zinc. When the material is pulled from the galvanizing bath, a layer of molten zinc is present on top of the alloy layer. When it cools, it has the bright, shiny appearance associated with galvanized products.
Inspection: After galvanizing, the coated materials are inspected for coating thickness and coating appearance. A variety of simple physical and laboratory tests may be performed to determine thickness, uniformity, adherence and appearance of the zinc coating.
Quite simply, galvanizing a metal gives it anti-corrosion properties. Without the protective zinc coating, the metal would remain exposed to the elements and potentially oxidize and corrode much faster. Galvanized Steel is a cost effective alternative to using materials such as austenitic stainless steel or aluminum in order to prevent corrosion.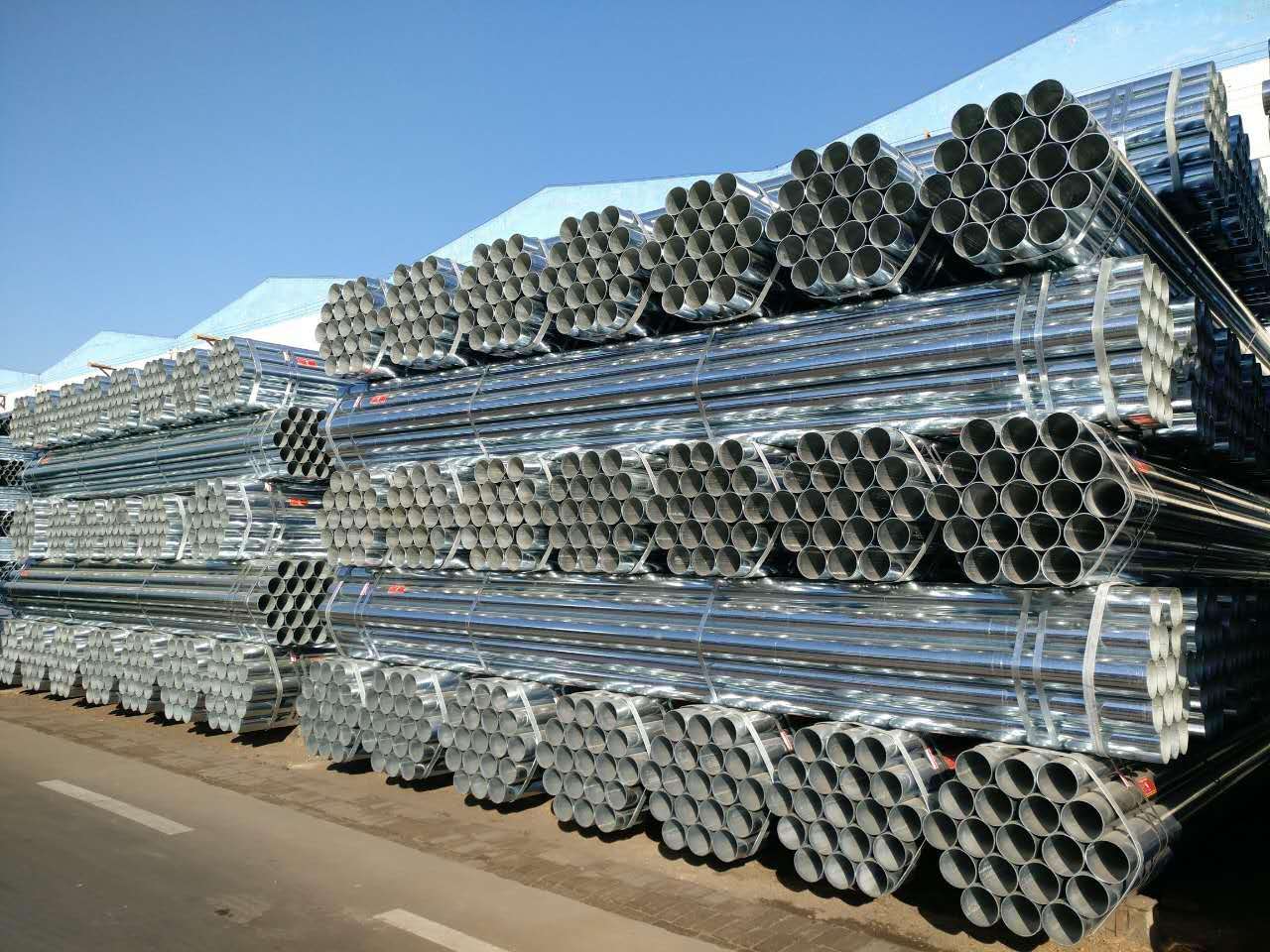 How Does It Work?
Galvanizing can protect metal is a number of ways. Firstly, it creates a protective coating that shields the metal from the surrounding environment. The layer of zinc prevents water and moisture and other elements in the air from corroding the steel underneath. Should the zinc coating be scratched deep enough, the metal would become exposed and susceptible to corrosion.
Galvanizing can also protect metal through a process called "galvanic corrosion". Galvanic corrosion occurs when two metals of a different electrochemical make up are placed into contact with one another with an electrolyte present, such as salty water. Depending on the atomic structure of the two metals, one metal is the anode and the other is the cathode. The anode corrodes more rapidly than it would by itself and the cathode corrodes at a slower pace than it would by itself. The reason zinc is used for galvanizing is because it has an affinity towards being the anode when in contact with many different types of metals. Since the zinc coating in contact with the base metal is usually the anode, it slows the corrosion of the base metal, or the cathode.

Different methods of galvanizing
There are several different processes for galvanizing metal:
HOT-DIP GALVANIZING
As the name implies, this method involves dipping the base metal into a molten pool of zinc. First, the base metal must be cleaned either mechanically, chemically, or both to assure a quality bond can be made between the base metal and the zinc coating. Once cleaned, the base metal is then fluxed to rid it of any residual oxides that might remain after the cleaning process. The base metal is then dipped into a liquid bath of heated zinc and a metallurgical bond is formed.
The advantages of this method are that it is economical; it can be performed quickly and to complex shapes. However, the final coating can be inconsistent relative to other galvanizing processes.
PRE-GALVANIZING
This method is very similar to hot-dip galvanizing but is performed at the steel mill, usually on materials that already have a specific shape. Pre-galvanizing involves rolling metal sheet through a similar cleaning process to that of the hot-dip galvanizing process. The metal is then passed through a pool of hot, liquid zinc and then recoiled.
An advantage of this method is that large coils of steel sheet can be rapidly galvanized with a more uniform coating compared to hot-dip galvanizing. A disadvantage is that once fabrication of the pre-galvanized metal begins, exposed, uncoated areas will become present. This means that when a long coil of sheet is cut into smaller sizes, the edges where the metal is cut are left exposed.
ELECTRO-GALVANIZING
Unlike the previous processes, electrogalvanizing does not use a molten bath of zinc. Instead, this process utilizes an electrical current in an electrolyte solution to transfer zinc ions onto the base metal. This involves electrically reducing positively charged zinc ions to zinc metal which are then deposited on the positively charged material. Grain refiners can also be added which helps to ensure a smooth zinc coating on the steel. Similar to the pre-galvanizing process, electrogalvanizing is typically applied continuously to a roll of sheet metal.
Some advantages of this process are a uniform coating and precise coating thickness. However, the coating is typically thinner than the coating of zinc achieved by the hot-dip galvanizing method which can result in reduced corrosion protection.
Pre galvanized:1/2''-4''(21.3-114.3mm).

Such as 38.1mm, 42.3mm, 48.3mm, 48.6mm or as customer request.

Hot dipped galvanized:1/2''-24''(21.3mm-600mm).

Such as 21.3mm, 33.4mm, 42.3mm, 48.3mm, 114.3mm or as customer request.

Pre galvanized:0.6-2.5mm.

Hot dipped galvanized: 0.8- 25mm.

Pre galvanized:5μm-25μm

Hot dipped galvanized:35μm-240μm

Electronic Resistance Welded (ERW)

Q235, Q345, S235JR, S275JR, STK400, STK500, S355JR, GR.B-D.....

BS1139-1775, EN1039, EN10219, JIS G3444:2004, GB/T3091-2001, BS1387-1985, DIN EN10025, ASTM A53 SCH40/80/STD, BS-EN10255-2004

Pre-galvanized, Hot dipped galvanized, Electro galvanized, Black, Painted, Threaded, Engraved, Socket.

ISO 9000-2001, CE CERTIFICATE, BV CERTIFICATE
SHANDONG HUITONG STEEL CO.,LTD
Shandong Huitong Steel Co.,ltd is located in Liaocheng City, Shandong Province, China. Our sales range covers Seamless Steel Pipe, Galvanized Steel Products, Carbon Steel Plate, customized special-shaped Steel Pipe and Other Steel Products. We have established a sound scientific management and quality assurance system. We can customize metal products according to customers' drawings and samples. With excellent and stable quality, reasonable price and thoughtful and efficient service, we are committed to continuously improving product quality and service level and serving more customers, making
Huitong
your preferred steel procurement supplier.
Huitong
has a professional and efficient international trade team, which can better serve customers.
Huitong
supply Supply the world!
Company Name: SHANDONG HUITONG STEEL CO.,LTD
Product/Service: Seamless Steel Pipe , Carbon Steel Plate , Galvanized Products , Color Coated Roll , Corrugated Roofing Sheet , Welded Pipe
Capital (Million US $): 3000000RMB
Year Established: 2021
Total Annual Sales Volume (Million US $): US$10 Million - US$50 Million
Export Percentage: 51% - 60%
No. of Production Lines: 7
No. of R&D Staff: 5 -10 People
No. of QC Staff: 11 -20 People
OEM Services Provided: yes
Factory Size (Sq.meters): 3,000-5,000 square meters
Factory Location: Liaocheng, Shandong, China
Contact Person: Mr. Hui tong
Tel: 86-635-4650736